Landmarks in Houston, Texas
Ulrich Engineers has provided key consulting engineering services in design and construction for the subsequent landmark structures.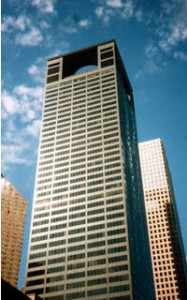 Houston Industries Energy Tower
Houston Industries Energy Tower rises to 52 stories with three basement levels.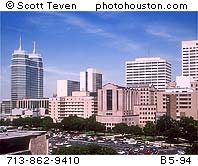 The Texas Medical Center
Ulrich Engineers, Inc. provided the foundation design and construction engineering services for the Texas Medical Center's modern tall buildings and their deep basements. The 30-story St. Luke's Medical Tower to the left overshadows the 28-story Smith Tower and Dunn Tower toward the right.
Rice University
The award-winning Rice University Building is just as complex underground as it is above ground. Our team served as design and construction geotechnical engineers for the renovation and also for major new structures.
Bush Intercontinental Airport
Bush Intercontinental Airport presented unprecedented challenges in foundation design and construction. In addition to the traditional role as design geotechnical engineers, we also held the unique distinction of serving both ownership and construction clients on foundation work that was halted.
Houston Industries Energy Tower
Elevating the existing tower from 42 to 52 stories without changing the existing mat foundation was the supreme engineering trial of this assignment. The consulting structural engineers unanimously selected our firm as the only qualified foundation specialist to respond to the challenge.
Our civil engineering firm would be more than happy to educate you about our available services and fields of specialty. Simply contact us to start working with our team today. We perform work throughout South Texas and the rest of the country.