Our Team in Houston, TX
EDWARD J. ULRICH, Jr., P.E.
Civil Engineer Specializing In Geotechnics
Diplomate | D. GE | AGP- ASCE
Ed Ulrich graduated from Georgia Tech in 1969 with a Bachelor of Civil Engineering and concentrations in George Sowers Foundations, structures, and surveying, but he began his career in 1967 as a part time field engineer in Atlanta foundation projects.  After one year as a Construction Engineer he entered the University of Illinois at Urbana-Champaign in 1970 to study rock engineering, foundation engineering, engineering geology and tunneling. Upon graduating with an MSCE he returned to Atlanta for another year, and then crossed the Sabine in 1972 to join McClelland Engineers. By 1980 he became chief engineer for tall buildings and braced excavations and started Ulrich Engineers in 1984.
For 12 years, Ed served in a variety of capacities at McClelland Engineers. He directed foundation assignments offshore, and on three continents, thus becoming aware that construction means and methods governed foundation design.  His noteworthy local projects include:
"The World's Tallest Soil Supported Building – [Texas Commerce Tower] Chase Tower at 75 stories"
"The World's Tallest Suburban Office Building – Transco Tower at 64 stories"
The Wortham Theater Complex
"ENRON Building 2"
Calpine Tower
The Houston Rockets Toyota Arena
Texas Medical Center Smith Tower
Earning the Title "Dr. Dirt"
In the mid 1980's, Ulrich Engineers, Inc. was called upon to guide the design and construction of the new Harris County Jail Complex. This was the most ambitious contribution to the Houston Central Business District since building the 75-story Chase Tower, the world's tallest soil-supported building. The jail project consisted of building new structures and the rehabilitation of an existing cold storage warehouse, all on the banks of old Houston waterways. Specifically, the constructions involved the following elements:
Old Warehouse
New Jail
Connecting Bridges
Additional Tunnel
Processing Center
Old Jail
The assignment was particularly challenging in that the success of the foundation design depended largely on the understanding of foundation conditions at the close of the 18th century. A major slope failure had already occurred and had destroyed the original site.
Ulrich Engineers, Inc. guided the design and construction of foundations, planned necessary repairs that would allow the failed site to be developed, supervised construction, and designed a scheme which doubled the height of the cold storage warehouse to form the new jail without needing new foundations… all feats unequaled in Houston history.
The owner-developer and contractor honored Mr. Ulrich with the title, "Dr. Dirt," for his leadership in the project foundation engineering because he played an enormous part in the success of the project. This title continues to be synonymous with the Ulrich Engineers team today.
Honors and Professional Societies:
1981 – Grand Conceptor Award given by the American Consulting Engineers Council for engineering excellence in the project Texas Commerce Tower in United Energy Plaza
1981 – Eminent Conceptor Award given by the Consulting Engineers Council of Texas for engineering excellence in the project, Texas Commerce Tower in United Energy Plaza
1983 – Eminent Conceptor Award given by the Consulting Engineers Council of Texas for engineering excellence in the project, RepublicBank Center
1984 – Grand Award for engineering excellence given by the American Consulting Engineers Council for the project, Four Allen Center
1990 – ASCE Thomas A. Middlebrooks Award for "Tieback Supported Cuts in Overconsolidated Soils" and outstanding contributions to foundation engineering
2009 – ASCE Harry S. Schnabel Career Award for Contributions in Braced Excavation Design and Construction [1st Award to Private Practice Engineer]
2010 – ASCE Louisiana Section Invitational Lecture
2011 – ADSC President's Award for Contributions to the Design and Construction of Drilled Pier Foundations
American Society of Civil Engineers
    Member, Earth Retaining Structures Committee
    Member, Structural Committee on Tall Buildings (the only geotechnical      engineer)
    Life Member

American Concrete Institute
Past Chairman ACI Committee 336: Combined Footings and Pier                    Foundations:
        336.1-01 Standard Specification for the Construction of Drilled Piers
        336.2R-88 Suggested Design Procedures for Combined Footings and              Mats
        336.3R-72 Design and Construction Procedures for Pier Foundations
Member, ACI Committee 543: Concrete Piles
Member, ACI TCSC TAC Committee on Specification Leadership
Member, ACI E707 Specification Education Leadership
Illinois Section ASCE Lecture Series, Chicago | 1988
    "Geotechnical Considerations in Mat Foundation Design"
    "Braced Excavations in Overconsolidated Soils"
Award Winning Projects
1990 St. Luke's Medical Tower
1992 Harris County Jail
o Eminent Conceptor by the Consulting Engineers Council of Texas for engineering excellence
o National Honor Award for engineering excellence given by the American Consulting Engineers Council
1995 NASA Neutral Buoyancy Laboratory – World's Largest Swimming Pool
2000 Rice University South Campus Developments
2006 Memorial Hermann Medical Plaza
2007 Rice Pavilion
2011 Texas Children's Hospital Maternity Center
2011 Rice University The Brockman Hall for Physics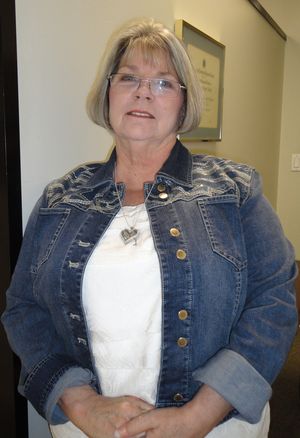 Patricia Calley: Vice President
Pat Calley is the co-founder and vice president of Ulrich Engineers, Inc. To this day, she remains the essential ingredient of stability in an environment focused on creating mechanics models from earth, and persuading contractors to choose successful engineering techniques and designs.
With previous experience as a laboratory testing technician and secretary, she has grown to manage the office and execute the duties of payroll, accounts payable, and human resources. Always steady and patient, she provides the calmness when there appears to be none.
Theresa Ramirez: Office Manager/ Administrative Assistant
Theresa became a member of our team in 2012 after spending several years in the banking industry. With incredible energy and drive, she always jumps into projects with both feet and never backs down from a challenge. Committed to the success of our business, she eagerly performs laboratory testing, invoicing, and helps the president in his tasks. 
Scott T Medbury: Construction Services Supervisor & Environmental Specialist
After completing the requirements for a BA in Geography, Natural Resources, and Environmental Studies, Scott Medbury left the arts and sciences for a career in construction.  In his professional career, Scott has provided nearly four decades of construction services in association with underground design.His past project work includes slope rehabilitation, earthwork, foundation design, construction of deep basements and tunnels, and even contractor neutralization. Difficult construction projects have grown to be Scott's specialty and he has shown that he can achieve the unthinkable when others develop reasons to fail.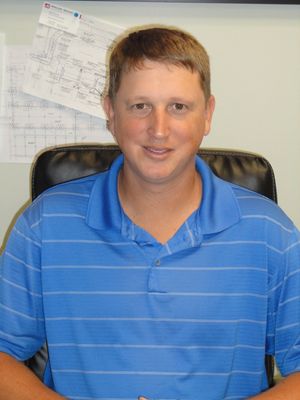 Christopher D. Guempel: Specialist in Foundation Construction & Environmental Services
Chris hails from across the Sabine and LSU. Although he started out as an environment specialist, Chris eventually stepped into construction and never looked back. The excitement of being part of a team that creates essential structures instead of locating contaminants has continued to captivate his interests.
Contractors have come to know Chris as the leader of Mission Impossible. His art works continuously impresses the team.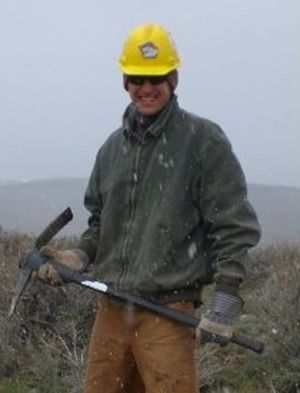 Jeremy Canney: Environmental and Construction Specialist
Bachelor of Science, Texas A & M University
Wilderness First Aid Trained and Certified Diver
Jeremy has the unique experience of being employed full time while pursuing his undergrad studies at Texas A & M and paying for all of his college costs.  After serving the US Government in a variety of capacities throughout the West and Texas, he joined Ulrich Engineers, Inc. to serve in a more applied environmental engineering capacity.  He has served as a foundation construction specialist in earthwork construction, shallow foundation installation, dewatering, basement water proofing, and braced excavation construction.  
Notable Projects
St. John's Great Hall
Schlumberger Expansions
Skanska Tall Buildings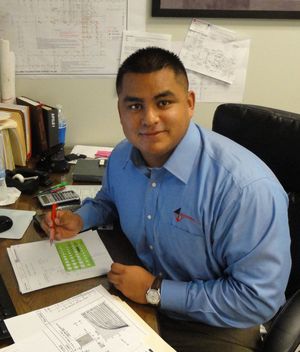 Rene C. Carrizales, P.E. Civil Engineer Specializing in Geotechnics
Bachelor of Science in Civil Engineering, University of Texas at San Antonio
Rene served as a coordinating civil engineer before joining the Ulrich Team in 2009 to specialize in earthwork and foundations. He quickly embraced basement water proofing and pond construction. Rene has become one of the leading specialists in the underground water control challenge. The staff of CETCO and TREMCO has praised him for his thorough project engineering.
As the lead engineer in construction engineering and foundation design, Rene has completed projects ranging from one story residences to tall buildings with deep excavations. He was the lead foundation engineer for the Rice University Brockman Hall for Physics which included a one level basement and Green Roof that could not leak!
Clients and Contractors know Rene as the Captain of Construction.
Projects:
Rice University Brockman Hall for Physics, Houston Texas 
Project Construction Engineer for foundation installation including permanent dewatering, basement and LID waterproofing. Lead designer and construction engineer for new CETCO hybrid composite agricultural LID application
BG Group Main Place Tower Block 93, Houston Texas
Assessment of offsite behavior of adjacent facilities as tower excavation was made and building built
BP West Lake North 1 Campus, Houston Texas
Lead designer and Construction Engineer of pond renovation including new bridges.
Houston Super Park, Houston, Texas
Lead designer of earthwork, foundations, basement waterproofing, and agricultural LID including LID waterproofing.
Linbeck Garage and Tunnel, Block 43, Houston, Texas
Project Engineer and Construction Engineer for the foundation design, permanent drainage, and basement water proofing.
Rehabilitation of Tunnels Capital Tower, Houston, Texas
Project Engineer for the evaluation of five old tunnels to arrest seepage without rebuilding the structures.